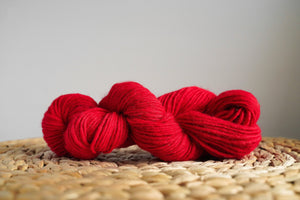 Experience the rich colours of the Juicy Fruity Collection! It's sure to put a smile on your face and brighten your day.
The wool for this yarn comes from a premium Huacaya Alpaca fleece farm located in the Foothills of Alberta.
This yarn is hand dyed and due to the nature of the hand dying process, variations in colouring can occur. Limited quantities available. 
100 Grams
120 Yards
Chunky Weight
100% Pure Alpaca
Hand Dyed
***ALL PRICING IN CAD***
Approx $22 USD