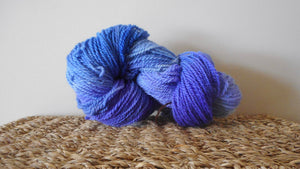 This collection is inspired by the Crocus wildflower. The Crocus is often a symbol of new beginnings & hope, as it tends to be one of the first flowers to emerge in spring after the long winter months. We hope these colours inspire the start of something new for you!

This yarn is hand dyed and due to the nature of the hand dying process, variations in colouring can occur. Limited quantities available. 
The wool for this yarn comes from a premium Huacaya Alpaca fleece farm located in the Foothills of Alberta. The level of care that goes into every step of the process creates a high quality yarn that is sure to inspire your next creative project.
100 Grams
10wpi
Worsted Weight
100% Pure Alpaca
Natural colour
***ALL PRICING IN CAD***
Approx $22 USD