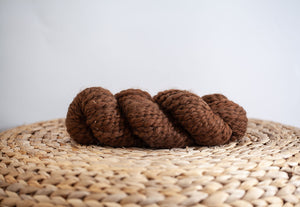 The wool for this yarn comes from a premium Huacaya Alpaca fleece farm located in the Foothills of Alberta. 
The level of care that goes into every step of the process creates a high quality yarn that is sure to inspire your next creative project.
This chunky pokemon cria fleece is the softest yarn and feels like butter because it's her first time baby fleece. This yarn is so fine making it unavoidable to have a small amount of vegetation in it. We want you to be aware of this, but it is worth it to pick it out to have the softest baby yarn.
135 Grams
105 Yards
Bulky Weight
Natural colour
100% Pure Alpaca
***ALL PRICING IN CAD***
Approx $26 USD